Burglar alarm servicing
Acewell Electronics Ltd can provide a maintenance package to suit your needs.
If you have a domestic burglar alarm system, we can offer servicing schedules from once a year to once every four years.  Just give us a call to discuss your requirements and if you go ahead, we will enter your details onto our exclusive online service management software.
Depending on which option you choose, we will contact you automatically when servicing is due on your system.
Either call to discuss on 01282 412340 or click the 'Get a quote' button and we will call you back, or respond by email, whichever you prefer.
Burglar alarm repairs
Acewell Electronics Ltd are able to carry out repairs to all burglar alarm systems.
Have you recently moved into a new house and the burglar alarm is faulty?
Maybe your burglar alarm hasn't been working for some time.  If so, give us a call on 01282 412340 and we will discuss your options.
In many cases we are able to carry out a reset on the control panel, restore the codes, reprogramme and replace the battery, to provide a fully functional alarm system again. Replacing the system, or even equipment is the last resort.
Alternatively, we can replace the heart of the system, the control panel with something more modern and stylish.  There are plenty of choices, for all tastes and properties.
Has your burglar alarm company stopped trading?
We have been made aware that both Arm Alarms and Towneley Alarm Systems, both highly respected and well established companies in the Burnley area have stopped trading. Both companies fitted and maintained high quality burglar alarm systems, that we are happy to continue servicing for all their customers, or repair if need be.
If you are a previous customer of either Towneley Alarms systems or Arm Alarms and require service or repair of your burglar alarm system, please give us a call on 01282 412340.
Replacement burglar alarm sounders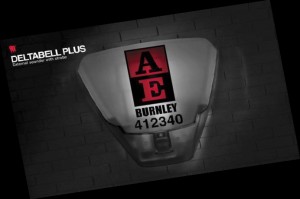 Is your external bellbox broken, or just looking a bit shabby? Apart from control panel batteries, your external alarm sounder is the component that is most likely to need replacing after a few years service.
Acewell can fit a top quality Pyronix backlit sounder for just £125.00 including VAT.
The Pyronix Deltabell is a Grade 3 external sounder that has a backlight, so the front emits a glow, ensuring your bellbox is visible day or night.  We can fit the Deltabell to any existing system – smartening up your burglar alarm system has never been easier, or more cost effective.